Administrator
Staff member
Administrator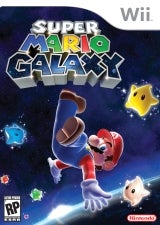 Although it was fleeting, it was great to see something new and we can report that the Cookie Factory level looks as good, if not better, than what we had already seen. This is one Wii game that can proudly stand next to the best-looking Xbox 360 and PlayStation 3 games. Of course, we weren't done playing, so read on for updated impressions of the Star Dust Galaxy and Prehistoric Piranha levels.
Mario blasts into Star Dust Galaxy and lands on a floating gear-like object. After navigating through a series of gravity stars he comes to three small planetoids hovering near one another -- close enough for Mario to jump between them. The gravity effects are really impressive and you'll find Mario is pulled towards whichever heavenly body he is closest to. Star shards must be collected from these three planetoids, after which a star launcher appears and Mario is sent through an even longer series of gravity stars. While moving from star to star is a simple matter of pointing at your destination with the Wiimote and hitting A, it is possible to gain too much momentum if you try to jump too far ahead and Mario can become lost in space. There are also asteroids that don't come in the shape of a sphere, and these seem to have a much lower gravity so that Mario can fall off into the void.
Eventually Mario comes to a planet where members of the Mushroom Kingdom are frozen in ice. After setting them free with Mario's spin attack the Astro Mushroom comes close enough for our hero to jump to. This leads to the amazing "appearing blocks" platforming section that we raved about at E3.
The Prehistoric Piranha level finds Mario landing on a grassy area filled with some unfamiliar enemies that will latch on if he gets too close. A wooden bridge curves under the planet, but of course gravity keeps Mario safely on his feet. The camera is very smart and zooms after Mario wherever he goes. One wonders if the open space environment of Galaxy was a means of dealing with that pesky camera, one of the few complaints that can be made of Mario 64.
The wooden bridge turns into a stone bridge that leads to a haunted-looking castle. A star launcher sends Mario to a planetoid where he must collect star shards while avoiding boulders that are filled with what looks like molten lava. Once they are all collected another star launcher sends Mario to a lima bean planetoid where a piranha plant has made its nest. Dispose of the plant and a vine will grow, which leads to a bigger lima bean. Players spin the Wiimote to send Mario zipping along vines. It's one of those Nintendo touches that really feels good to control.
Eventually Mario crashes onto an egg jutting out of a small planetoid. A tail pops out of the shell and the egg begins moving around. Giving the tail a whack will send it careening into the shell, shattering it and revealing the Prehistoric Piranha, who reminds us of Petey Piranha in Super Mario Sunshine.
much more
here