Administrator
Staff member
Administrator
Since it is E3 time, I believe it is right for a contest! Since the one thing I want from my members is to post, I'll make this contest a posting one!
The goal is simple, rank in one of the three spots on this side widget here (always located on the right side of this site's main index):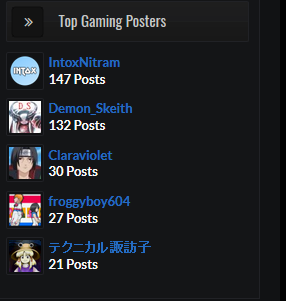 To win one of these prizes:
1st place: $100
2nd place: $20
3rd place: 1000 forum points
4th and 5th place: 500 points
Cash prizes will be rewarded via paypal or gift card of some sorts and I will only pay up to that max amount, any amount loss due to country conversion will not be covered by me.
Rules:
All site rules do apply
Not all boards allow post increase, these will be on the board description.
Rapid few word posts (1-3 words) can get you disqualified.
There will be extra moderator staff during E3 to monitor all members, so please no cheating.
Extra points:
You can get 5 extra post points added to your final scores if:
If you refer someone to join the site, they make ten posts on this forum and post on this topic mentioning you as a referral (so by the time they post here, they must have 11 posts or more). This can stack, so get people to join and post!
Contest ends on June 30th at 11:59 PM CST USA time.
Good luck!